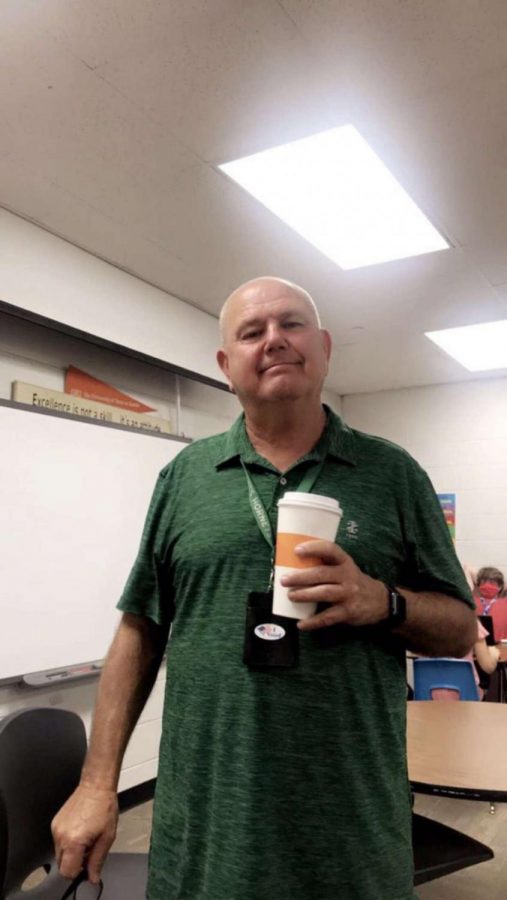 Grace Walsh
Coach Prather is the OnRamps U.S history teacher and golf coach at the high school. He not only teaches history and coaches golf, but also teaches life lessons along with it. He has had a huge impact on my life and many others too. Something that makes me honor Coach Prather so much is the fact that he used to serve in the Army and risked his life for America's freedom.
Anytime I have ever brought up Coach Prather in a conversation, that person's face always lights up. Coach Prather could turn anyone's bad day into a good day. He is the easiest person to talk to and I know I could count on him for everything! He sees the good in people and I admire that about him.
"Not only has he always been one to make me laugh, but I know I can talk to him about anything and he will listen," junior Annabella Gamble said. "He interacts with us a lot when teaching by having class discussions or playing videos on the smartboard, and it really makes class fun."
"Coach Prather is my favorite teacher because he always engages in our learning, and always makes sure we completely understand the topics," junior Skyler Polser said. "More than just teaching his students about history, he cares about our future and our life currently and he is one of the only teachers I know that ask about my day and truly cares."
"I just really enjoy how interactive Coach Prather is and how understanding he is when it comes to students' personal lives," junior Caden Christian said. "He's an amazing teacher and really cares about his students and helping them understand what we are working on."
"He honestly just really tries to get to know each and every one of his students and he's such an easy person to talk to and get to know, I love him," senior Trinity Hall said.
Coach Prather does everything from being a dad, grandpa, teacher, coach, veteran, griller, golfer, a high school sweetheart, and a proud red raider! He does his best to make every student feel validated and loved. He is truly an inspirational teacher and I'm so lucky to have met someone like him.