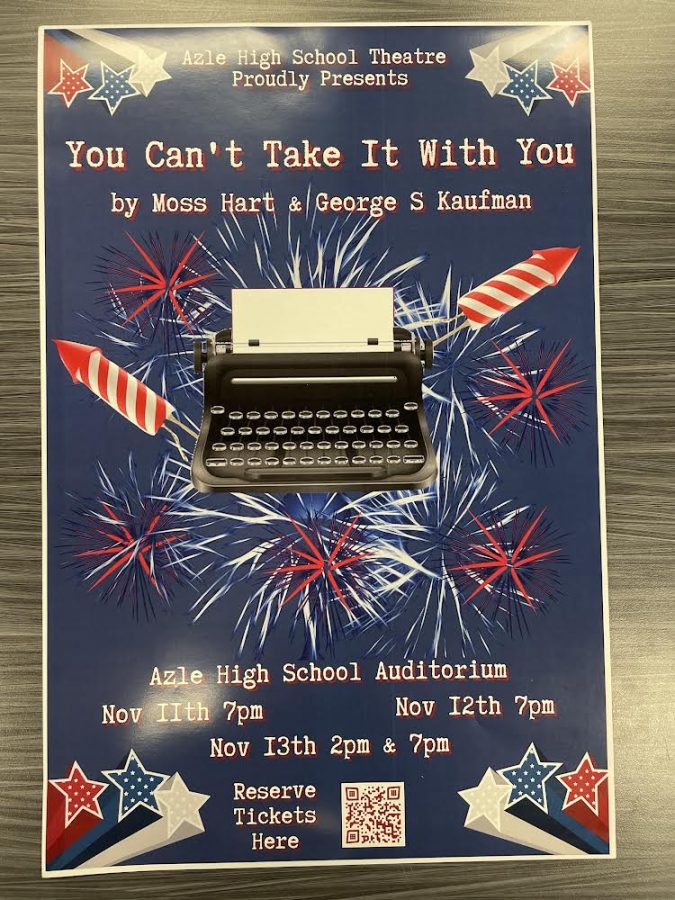 Bailey Brewer
The Azle Theatre will premier a comedy play, "You Can't Take it with You," Thursday. The main focus of the play is on a young couple with completely different families. On Thursday, at 7 pm, there will be a special student pricing night that will be half the original price for tickets. Students, Azle ISD employees, and seniors will pay $6, and general admission will be $7.50. The show will also run on Friday and Saturday.
Posters were placed around the school and announcements have been made leading up to the premier date. Azle Drama's Instagram is promoting the play by having a countdown until the play is ready to show.
"If students and faculty would like to start buying tickets for the show, tickets will be in the QR code on the posters, or see me in the theatre room for more info," theatre director Bailey Brewer said. "But for Friday and the two performances for Saturday, tickets will be $12 for students and seniors and $15 for general admission.
The comedy focuses on a young couple, Alice Sycamore and Tony Kirby with very different families. Tony's family works on Wall Street, they are very snooty, while on the other side, Alice's family has quirky and weird characteristics. One day, the two families decide to meet each other, but the encounter is unplanned. Tony brings his entire family on the wrong night and chaos begins to break loose.
"I performed this play when I was attending college, and I played one of the characters, Gay Wellington, coming in from act 2. Her role is being drunk the entire time, and the Sycamore family is trying to hide her from the Kirby's to have a good first impression," Brewer said. "I had tons of fun playing her while being in college, this play will definitely be fun for these kids."
Ms. Brewer wishes everyone to have a carefree and exciting night after working so hard for the play.
"I'd like the audience members and actors to have a fun night, escape reality for a minute," Brewer said. "I also want all the actors and crew members backstage to achieve their goals for the production."
What is seen on stage is the reflection of how the theatre department acts behind the scenes on a day-to-day basis.
"I'm mostly excited about the comedy portion of the show, we have tons of funny kids in our theatre department," senior Megan Vallie said. "It's a family show and behind the scenes, everyone has a family bond as a theatre troupe so what you see on stage and the comedy is what happens in real life, very authentic."