The Sting Focuses on Black History Month: The Black Panther Party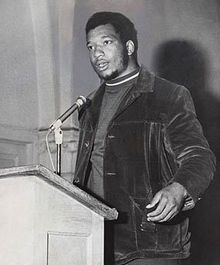 Black History Month is a celebration that occurs every year in February. This month honors the achievements of the African Americans' roles in history. Black History Month became an official holiday in 1979. The Sting is putting together a series that highlights black voices from the past.
The Black Panther Party, a party originally created to protect predominantly black neighborhoods from police brutality, was organized in 1966 by Huey P. Newton and Bobby Seale. The organization aimed to arm African Americans, get them out of jail for false accusations and unfair trials, and the compensation from white Americans from the centuries of oppression. (However, they did find ally-ship with white Americans who did support their cause for justice for African Americans and did believe that capitalist African American elites could also cause harm to the black community.)
The organization grew to its peak in the late 1960s with growing chapters in separate cities and protesting the mistreatment of African Americans during the civil rights movement, including offering free foods for children and medical services to those in poverty. Though, with their protesting, they eventually became a target for the FBI, who viewed the group to be a communist group and a great threat. The FBI used misinformation, force, and sabotage while being resourced and their intentions hidden to end the Black Panthers Party.
Eventually, the FBI and the Black Panthers Party, after having a five-hour shootout because of a police raid in the headquarters of the Black Panthers Party, Fred Hampton, the leader of the Chicago Black Panthers Party, was killed. Newton was also arrested in a shootout after protesting with the Black Panthers against the Mulford Act, which would repeal the law of openly carrying a firearm, which was seen as a political move so the Black Panthers would be unable to physically retaliate against police brutality. However, with this news, other countries began to support the Black Panthers, such as Japan, China, Germany, and many others. The Black Panthers Party left a legacy for future protesters and inspirations for groups such as the Black Lives Matter Movement and paved the way for a future for equality towards the black community.