The Sting Focuses on Black History Month: Medgar Evers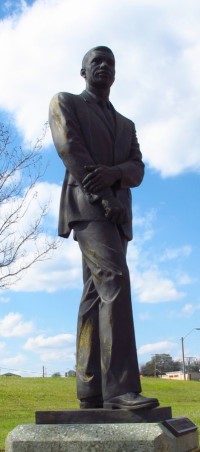 Black History Month is a celebration that occurs every year in February. This month honors the achievements of the African Americans' roles in history. Black History Month became an official holiday in 1979. The Sting is putting together a series that highlights black voices from the past. 
Medgar Wiley Evers was born on July 2, 1925, in Decatur, Mississippi, and during his childhood in Decatur, he encountered racism on a daily occurrence. When he was in his teens, Evers witnessed, from a safe distance, a group of white people patrolling the streets of Decatur looking for a black target to beat up, and that's when Evers knew he was determined to make a change in the community regardless of hatred of the local white people.
After three years of being in the military service, Evers had an honorable discharge, finished high school, enrolled in Alcorn College in Mississippi, and enrolled in business administration. After his application was denied to the University of Mississippi Law School, he moved to Jackson, Mississippi in 1954, Evers worked to set up a NAAP office. Myrlie Beasly, whom Medgar Wiley married, served as Ever's full-time secretary in the Jackson NAACP office and was involved with his work in the Civil Rights Movement.
By this time he received life threats daily and was added to many death lists, regardless of the issue, Evers remained calm in the struggle for freedom. Evers was a civil rights activist, investigated crimes against black citizens, and was the first state field secretary of the NAACP in Mississippi. But, unfortunately on June 12, 1963, after coming home from an NAACP function and carrying T-shirts that said, "Jim Crow Must Go", a bullet struck Medgar Evers as he pulled into the driveway. Inside the home, Evers' three young children heard the gunfire.