Sportsmanship Redefined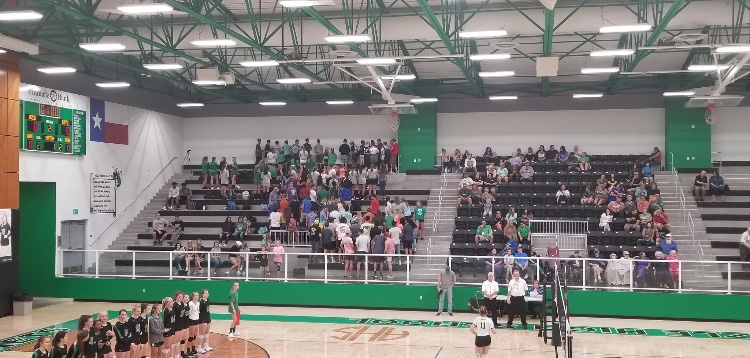 On Aug. 28, during a varsity volleyball game against Boyd High School, many students from the AHS student section turned their backs as the opposing team walked out. Students, faculty, and parents from both schools saw the incident as disrespectful. However, AHS students claim to have been only joking.
"It kind of was a put down onto our student body about 'Why is Azle High School not being respectful?' and 'Why are they showing disrespect to the opposing team?' especially because we're all neighbors."
Faculty and community members questioned AHS's sportsmanship and sought to understand how this joke could be entertaining.
"When you have pride, that means you're going to take care of your own," Principal Randy Cobb said. "We're going to make sure that our school is taken care of… That our school is represented in a positive way. That we shed a good light and that we exemplify good sportsmanship. I'll sum it up to say this: We do the right thing."
Many students took to Twitter to reach out to the district. Some of our students believed that the turning of the backs was not disrespectful, claiming that it was a tradition taken up many years ago.
"I don't know that anybody on our team wanted to show disrespect," Mr. Cobb said. "I think there's been a little thought about maybe this being some tradition or something. I don't know if it's a tradition… it's not something that's becoming a trend. I know some of our district administrators, as well as parents in our district, would like for us to have a more positive light."
The Principal made an announcement regarding the issue the day following the volleyball game.
"The announcement that I had written talked about being proud to be a Hornet," Mr. Cobb said. "So I wanted to talk about the positives and not the negatives. A lot of people perceive that to be negative when they turned their backs. What I wanted to do is to come from a perspective saying, 'Let's consider our ways. We want to be respectful, we want to show good sportsmanship. We want to do the correct things.'"
Mr. Cobb expressed that by making the speech to all of his students and faculty, this was his way of showing that his general method of enforcing rules is personal to him. He likes to think of his students and staff as his peers. He believes that in order to get people to listen, one must do it in a positive way.
"I'm pretty prideful about Azle High School," Mr. Cobb said. "I've been here for three years. I love this school. I tell our student body that I love these guys. You are a person before you are a student. I want the students to know that, and I appreciate them making good choices. I think doing the right thing is personal, but it's contagious. When you do the right thing, maybe others can see so, all you can do is model that, show that you're doing the right thing. You can't control someone else."
The following tweet is what caught the attention of Azle Independent School District and really showed what was going on at sporting events.
"After a very elaborate speech about sportsmanship and showing respect to the coaches, the players, and the referees the attached pictures are a shining example of the "respect" shown to @boydladyjackets while our players were being announced," @kimtodd71 said via Twitter.
Many Azle students responded back to the Boyd parent with patience but still spoke their minds and didn't hold back.
"After a very elaborate tweet from an offended, complaining, mother irritated by a small joke. The students at Azle High School are completely unfazed by this and will continue to do this at every game and be a shining example of the "most hype" student section in Texas," Senior Kass Vann said via Twitter.
Boyd students and parents may have raised issues, but it seems there was a different story happening on the court.
"I talked to the Boyd coach and she wasn't offended at all," Varsity Volleyball Coach Elizabeth Snyder said.
Coach Snyder mentions that she is proud of the student section for supporting Azle Volleyball and has some suggestions for new ways to more playfully encourage opponents.
"I hope they just come up with a new way to do the same type of thing," Snyder said. "They can put their heads down, they can act like they're sleeping like they're reading a newspaper; I guess they can hide behind signs if they make signs."
According to Snyder, this has been a way to communicate with teams for years and to motivate each other into doing their best.
"I would've been fine with it, it would just motivate me to a good job too," Snyder said.
Although there were some questions about the respect of the students, the coaches understand the intents of the student section.
"That's something that's been in sports for years and teams do it all across the country; no matter what sport, you see it," Snyder said. "I was proud of my students for supporting us."

About the Writers
Natali Coronado, Social Media Manager/Staff Reporter
It's like Natalie but spelled like Natali. I'm a senior that likes to dance, watch Shrek, and write your news. ;) I can't be taken seriously, and my meme...
Lanie Malone, Staff Reporter
My name is Lanie Malone and this is my first year writing for The Sting at Azle High School. I love everything about literature and I have always had a...