Bresnahan Beats the Best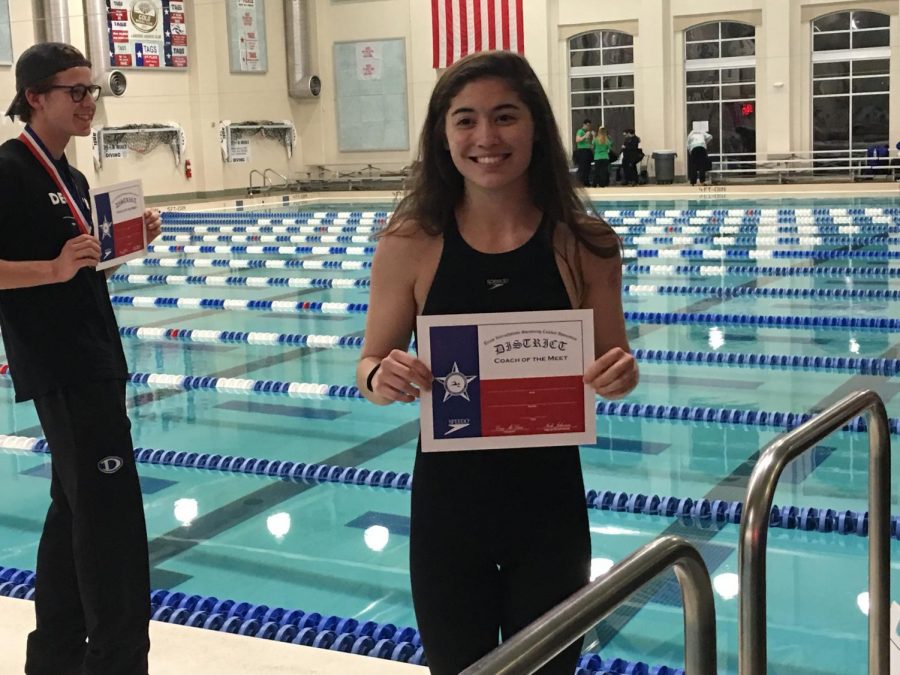 In January, the swim team broke some school records and one of their swimmers, senior Taylor Bresnahan, got first overall at the district meet. Bresnahan won gold in the girls 100m butterfly and 50m freestyle. Not only does she excel in swimming but she succeeds in many other aspects of her life such as, maintaining straight A's while being in AP ambassadors and National Honors society.
A normal day for her is packed with practice and school work. Bresnahan describes her daily life like, "Most days if I go to swim practice in the morning I wake up at 5 a.m., I go to practice, go to school, go home and try to get in a little bit of homework if I can and then about 45 minutes later I leave for my second swim practice, I'll usually get home at 7:30 or 8:30 at night." said Bresnahan. "I usually stay up until about 11 or maybe midnight at the latest and then I do my work and do it all over again."
Most high schoolers aren't as motivated to do schoolwork and a sport it's usually one of the other. The only classes she takes that aren't AP are swimming and onramps.
Bresnahan has broken some school swim records, but in her opinion, her greatest accomplishment is "Being where I am academically and being able to maintain the grades I do with as much time as I commit to swimming."
Many students would rather choose a social life than being successful in a sport or academics, but it's refreshing to see a student think otherwise.
"The school records definitely were a huge thing for me for the simple fact that I never swam before my freshman year, so walking in knowing how to basically float on my back and going and breaking records it's definitely a big honor for me."
She also talks about her biggest supporters who are her parents and the other person that helped her as far swimming has been her club coach Andrew Ha; she wouldn't be where she is without how hard he pushes her.
Academically she has to motivate herself and use her own drive to get where she wants to be. Her goals for the future are "Of course go to college next year; I'm not going to be swimming in college for the simple fact that I have no time to myself whatsoever. I never really got involved in high school in other areas, actually investing in people more so as I just did with sports and academics."
Some other goals she has are: "have a sort of larger, deeper understanding of the Bible, and as far as even career-wise, I want to teach–specifically math, so I want to hopefully reach through to students in ways that other people haven't before, so they can go and pursue their dreams hopefully like I can."