Black History Month: Featuring Thurgood Marshall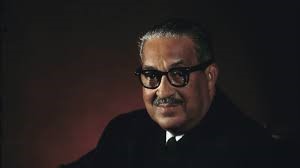 Hang on for a minute...we're trying to find some more stories you might like.
The first black man to be a supreme court justice. Making that become a reality wasn't easy, many doubted him. Marshall graduated from Howard University of law. Black excellence at it's finest. A man that should be in history books for revolutionizing and tearing down the segregation of public schools.
Marshall didn't let anyone intimidate him. He always spoke his opinions and fought for what he believed in. The supreme court didn't stop him nor any of his colleagues in it. He even said the constitution was defective from the start.
Brown v Board of Education was one of his biggest cases.  Thurgood Marshall argued that school segregation was a violation of individual rights under the 14th Amendment. Winning Brown v Board of Education made him stand out from other lawyers when it came to becoming a new supreme court justice.
He fought for what he believed. A wise man, obviously ahead of his time. "The measure of a country's greatness is its ability to retain compassion in times of crisis." ~Thurgood Marshall, US Supreme Court Justice (2 Jul 1908-1993)
About the Writer
Alexa Guadiana, Sports Editor
Senior @ AHS. I love painting, reading, writing, working out and making clothes! Living my best life with the most amazing people surrounding me!!  John...