Leaping Their Way to State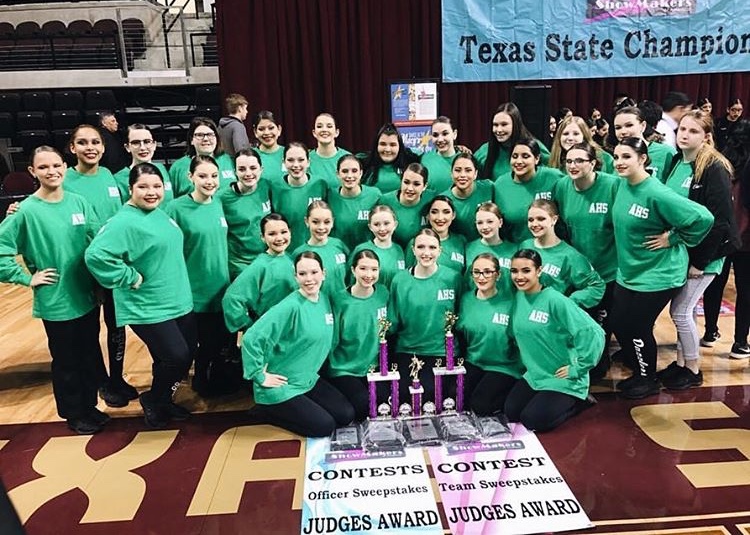 The Emerald Dazzlers won multiple awards at the ShowMakers of America state competition in San Marcos on March 1-4.
The Dazzlers had the opportunity to compete at Texas State University and won titles such as highest scoring routine for hip-hop, team sweepstakes, officer sweepstakes along with many other awards.  
"I say we did pretty good, we didn't get the overall grand champion winning, but for our team size and being there we did really great overall," Junior Lieutenant Syndey Thomason said.
Drill team is a year-round extracurricular with many seasons, but nothing is more stressful than competition season.
"It can get very stressful, but I feel like everyone can usually keep their cool well enough for us to get things done," Thomason said.  
However, this year was the most nerve-racking for the team because this is the first year they went to four competitions instead of three, like in years before.
"It was so long; this is the first time in all of my drill team years, as a dancer and as a director where I've gone to four competitions," Director Sidnee Denman said. "It was long but I loved it because competition season is by far my favorite season of the year."
Countless hours are spent perfecting these dances, but that did not stop these girls from learning how to better themselves during the 3-day competition.
"I think it inspired us to continue working on our technique and bettering ourselves as dancers," freshman Emma Boyer said.
Spending four fun-filled days with the team gave the girls a chance to become closer by sharing laughs, shopping tips, and the stress that comes with competing.  
"It was an amazing experience that I will treasure for the rest of my life," Historian Alexus Martinez said.
Now that the Dazzlers are finished with their competition season they will be preparing for tryouts for the 2019-20 school year.
"I'm always excited for the new batch to come in, and it's definitely bittersweet because I lose out on my sweet, sweet seniors," Denman said.  
Once tryouts are over, the team begins preparing for the annual Emerald Dazzler Spring Show, where they will be showing off the routines they competed with along with other dances.
"I'm excited for Spring Show, and I've been excited for Spring Show for the past eight years," Boyer said.

About the Writer
Natali Coronado, Social Media Manager/Staff Reporter
It's like Natalie but spelled like Natali. I'm a senior that likes to dance, watch Shrek, and write your news. ;) I can't be taken seriously, and my meme...