Spring Show Coming Soon
Azle High School's Spring Show is a collection of performances not only by the Emerald Dazzlers but also by any other students who would like to showcase their talents. Between acts performed by the Dazzlers, the show will feature singers, musicians, and poets who will soon be able to audition for a role. The tryouts will take place on Wednesday, April 3rd in the Fine Arts Gym from 3:20-4:30.
"It's the seniors' last performance, a nice closing dedicated to them," senior Kelsi Bernsen said. "We always have the same opening routine and we always have the same closing. I like keeping that routine because you start out doing it as a freshman and do the last dance as a senior. It can be a little stressful, however, it depends on our rehearsal schedule. The show is not competitive so it's mostly for fun."
The Spring Show is hosted and choreographed by Dazzler's coach Sidnee Denman. The purpose of having the show is to raise money for the dance team as well as serving as a goodbye to Dazzler seniors who will be graduating in May. T-shirts and concessions will be for sale at the event, and the money is used for costumes, trips, competitions, and hotels.
"We have lots of different types of dances," Bernsen said. "We have a jazz, kick, pom, novelty, hip hop, military-themed dance. We also have different outfits for every routine depending on what it is."
The dances consist of every routine that the team competed with throughout the year, shown altogether for one or two nights in a showcase presented to the school and families of participants. There are typically 25-30 acts, performed at 7 p.m. on both Friday, April 26 and Saturday, April 27.
"It's a really good opportunity for other people to come and show their talents," junior Isabelle Crabtree said. "I feel like it's not just about us, it's about our school as a whole. Ms. Denman does so much to organize practices and cleaning up our routines, which takes a lot of time and patience with us. Without her, we wouldn't have dances to perform."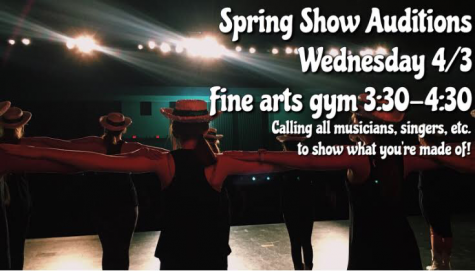 About the Writer
Lanie Malone, Staff Reporter
My name is Lanie Malone and this is my first year writing for The Sting at Azle High School. I love everything about literature and I have always had a...