Culinary Rules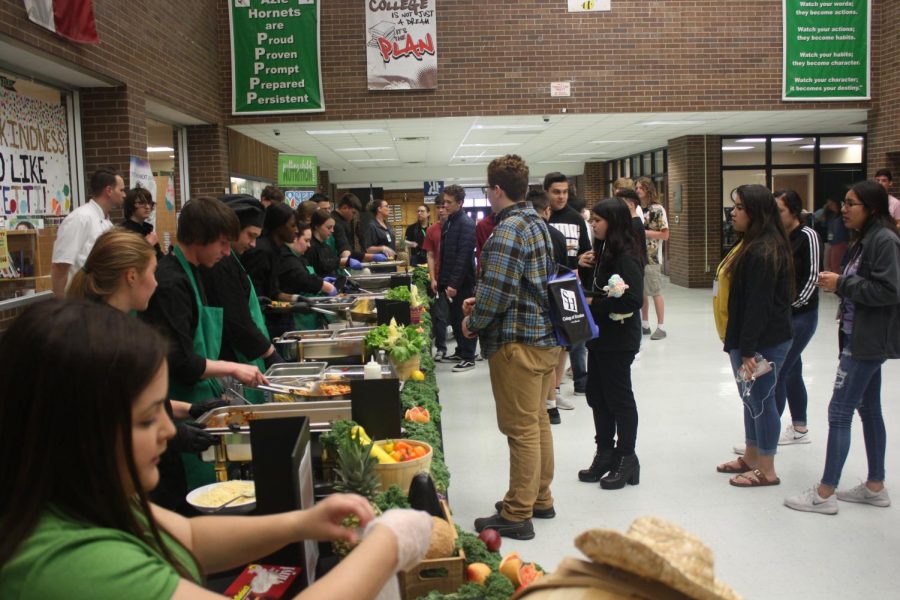 The culinary team held a walk-in restaurant in the mall area on Thursday, April 4 featuring pasta, penne regatta, olive marinara, roasted cauliflower, heirloom cherry tomatoes and swiss chard tied with fresh chicken stalk and more marinara sauce topped with parmesan cheese. They partnered with Southwest Foodservice Excellence that features all of the school's cafeterias in the district and is based in Arizona.
"We have 10 schools in our district," representative of SFE Jessica Welsh said. "I only work with Azle, but we do sometimes go and help other districts."
This event featured many fruits and vegetables that students and staff had never tried or even heard of before. Cactus pear, mandarinquat, kiwi just to name a few.
"I feel like kiwis are pretty common and I've had a lot of students say I've never tried kiwi before," Welsh said.
The students serving took time out of their class period to cook and prepare the dishes for the student body and had fun doing so. Students like sophomore Gracie Wynns use cooking as a creative outlet to show off her talent.
"Its a creative outlet, and I can't draw and I don't like to sing in front of people," said Wynns.
The SFE provided all of the ingredients used in the meals that the culinary class created. The SFE also provide the school's cafeteria food that students eat every day. This event gave the students serving their peers the opportunity to show the student body what they have learned taking the culinary class and what they are capable of.
"Just like we have soccer games, football games, baseball, etc.," boys varsity soccer coach Brad Averitte said. "This is the opportunity for these guys to come out and perform in front of their student body, so it's great."

About the Writer
Logan Creech, Photography Editor
I am Logan Creech, but my friends call me Lagoon. I like cats and socks with cartoon animals on them. I have dyed my hair 8 times and haven't had my...