FCCLA Champions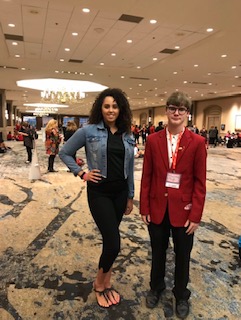 3,350 students from across the state of Texas attended the Texas State FCCLA Conference at the Sheraton Hotel and Conference Center in Dallas from April 4 to April 6. FCCLA stands for Family, Career, and Community Leaders of America.
Megan Ross and Natasha Deramee have both been teaching family and consumer science for about 2 years now.
"I am proud to say that out of 14 students that went to the Texas FCCLA Region II Leadership are going to the conference in February," Deramee said
Samantha Morton competed at the Texas state FCCLA leadership conference for fashion design and progressed to the state level for fashion design. Starting in October, with a fashion croquis, Samantha drew, then designed and constructed her own beautiful evening dress, and figured the cost to manufacture her clothing line and ways to reach her target audience as part of her project.
"It took a lot of hours and hard work," Samantha said. "It's a good feeling, winning and getting recognition for all my hard work."
Elijah Price also competed at the state leadership conference for finance. Elijah ran for Region II Officer and was elected to Texas FCCLA Region II Vice President of Finance for the 2019-2020 school year.  He served several duties to aid the competitions. Because of his accomplishment, Elijah will attend Nationals in California as a Region II Officer in July.
"I am so proud of all of them for stepping into something new," Ross said
These two students worked very hard and accomplished their goals. They are going to continue their work and to go further with this. They made their teachers and school very proud of their achievements.