Running for Success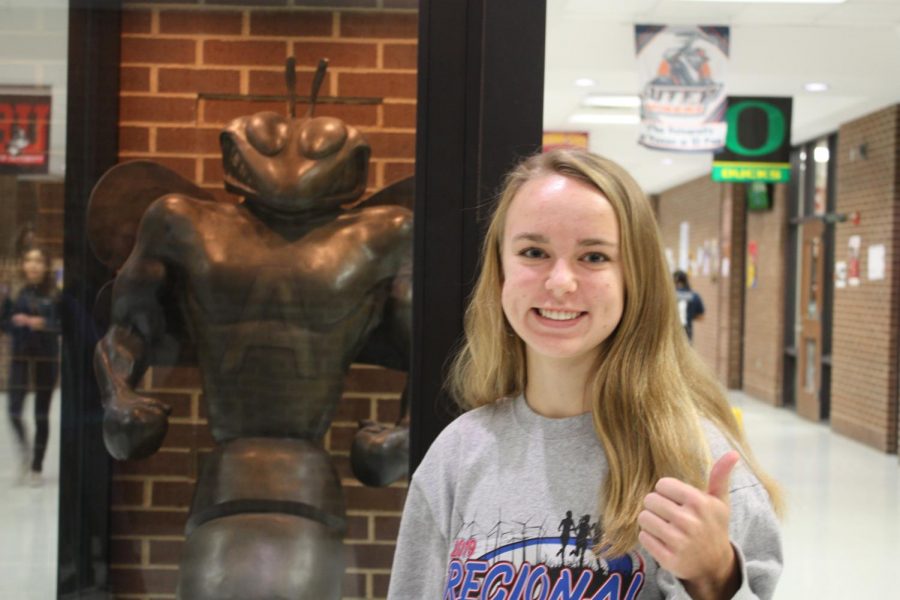 Grace Walsh and Cynthia Garcia, Sports editor and Staff writer
November 8, 2019
She crossed the finish line taking her last leap trying to beat her previous time. The stopwatch reads 19:02 for the 5k run. Everyone cheers with excitement as she tries to catch her breath. 
This is sophomore Leah North's first year participating in cross country and she's already made her way to state. She's off to Austin today to compete tomorrow. 
"I'm very nervous but also really excited because I've never done Cross Country before," she said. 
Leah is the first girl in all of school history to go to state for running the 5k.
"I am very impressed," coach Keith Boenisch said. "Leah has done a phenomenal job this year and for her first year in cross country."
Leah takes her sports very seriously and is very passionate about succeeding in anything she puts her mind to. 
"Cross country is a very hardworking sport that pushes you beyond your limits, and you have to be dedicated," North said.
 Leah was not planning on making it this far in cross country, but the outcome of the season proved her wrong.
"We took this season as kind of a practice warm-up for track, but throughout the season she just kept getting better and better and building up more confidence," Boenisch said. 
This year Leah broke the school record and is one of the first girls to go to state for Cross Country at Azle High School. (Editor note: If you happen to know the previous school record, please let us know!)
"Leah is the first to go to state for running the 5k since girls started running the 5k back in 2012," Boenisch said. 
North never knew her outcome would ever turn out like this and all she had to do was take some chances. 
"I couldn't decide if I was going to do cross country this year, so I flipped a coin to see if I wanted to run," Leah said. 
It looks like the coin landed on the right side.

About the Photographer
Grace Walsh, Sports Editor
My name is Grace Walsh and I am a sophomore. I love to make new friends and hang out with my friends. My favorite thing to do on Fridays is definitely...