North Texas Auto Dealers Competition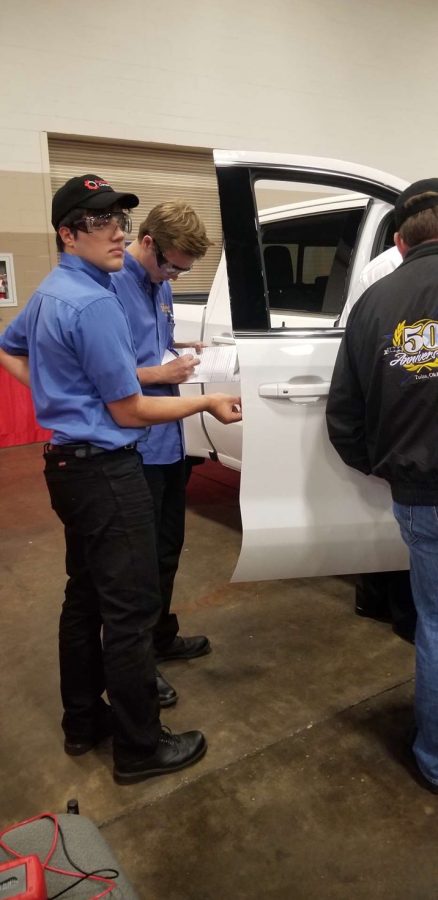 On Nov. 9, Junior Autotech students, Hunter Passmore and Alex Roecker competed at the North Texas Auto Dealers Competition in Fort Worth.
Out of 1000 possible points they could have earned, they collectively earned 964 together.  
"I feel like we could have scored better if we had more time to train," Roecker said. "We went in without much knowledge, so I feel we scored terrifically." 
Hunter and Alex had never competed at anything like this before, they really didn't know what to prepare for. 
"I think they did very good because we went in not really knowing what to expect," Autotech teacher Robert Herring said. "We went in just wanting to experience it, we really didn't know how they were going to do." 
There were two phases of the competition that they competed in. Phase one dealt with micro measuring interviewing skills and in phase two the judges would put "bugs" in the car for the competitors to fix. 
"In phase one we competed separately," Passmore said. "In phase two we competed together." 
There was a typo on a circuit module which was a key part in phase two of the competition. 
"It said k8 on a circuit instead of m8," Roecker said. "It led us toward the wrong direction which took us 15-20 minutes to find out it was a typo." 
They went in not knowing what to expect and how they were going to do, but with their turnout, they aren't satisfied yet. 
"I feel like we really could have done better," Passmore said.  "We are gonna start training back up at the Jameswood dealership to get ready for our next competition." 

About the Writer
Tori Patton, Team Editor
Hi, I'm Tori Patton and I'm currently a junior here at Azle High School. If you catch me in the halls you will probably see me with earbuds in, jamming...