Lots of Love For Mr. Mac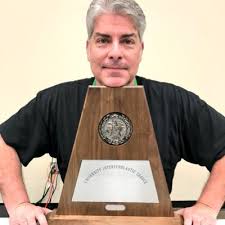 Choir director Brent McCartney is a very busy man around this time of year. He is working with five choir periods learning songs and practicing sight reading for UIL 
He's working with dozens of students throughout those periods on the songs they chose to do for solo and ensemble, all while still making class time fun. 
"I would say I've practiced for at least 8 hours in total on my song for solo and ensemble," sophomore Jadyn Wheeler said. "Mac has really helped me get the rhythms down and work on breath control during the bit of one on one time I have with him in class."
Wheeler isn't the only one Mac has helped out with their song.
"I have a piano at home so of course I practice there but I also work with Mr. Mac during class," sophomore Daniel Padilla said. "The time I spend working with Mac is really important because he teaches me how to take in air and how to use my voice and project more because I tend to be a little quiet. My solo is very dynamic based and he really helps me get into the song and just make it the best I possibly can."
Mac is not only helpful but very dedicated to what he loves.
"Last year when he had a heart attack, the second he woke up he was asking about the choir group," junior Lydia Bates said. "He wasn't even supposed to leave the hospital yet and he still came to a choir concert to make sure everything was running smoothly. He even came back without a doctor's technical approval I guess you could say because all he cared about was getting back to us."
Mac leaves his mark on everyone's heart and leaves the seniors on high notes. 
"I've been in choir since my freshman year," senior Ethan Marquart said. "There's not one bad thing I could say about Mac that would be true. He's just an amazing teacher. He cares about his students and he's always a reliable person to go to. He's one of the few adults I actually trust."

About the Writer
Natalie Barnes, photography team and social media/ advertising
I'm a sophomore and this is my first year of being on the newspaper staff. I love music and I'm always going to concerts. My favorite things ever include...