The Path to Azle Baseball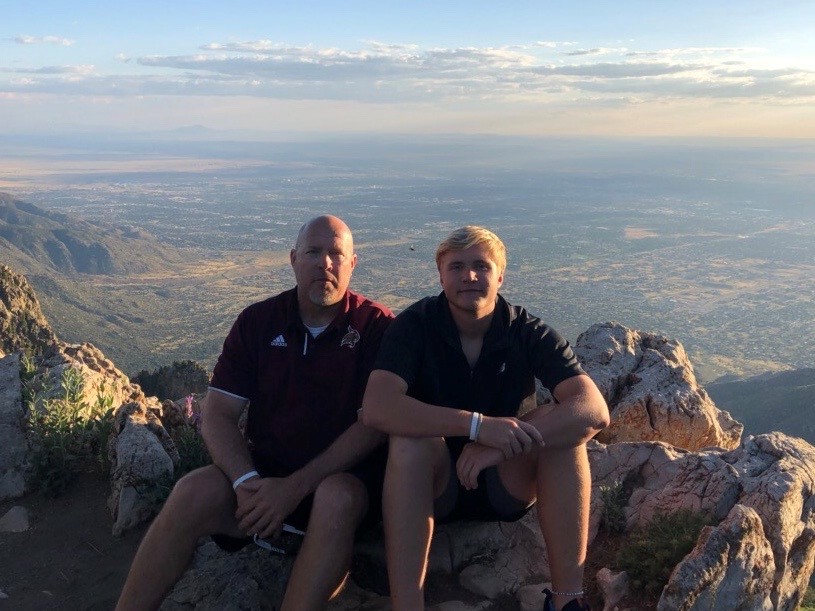 Pierce Loeffelholz, Staff Writer
March 2, 2020
Coaches across the nation have created a standard of what a high school coach should do for the players. Stephen Smith, head baseball coach at Azle High School has begun to stretch that standard to new heights. 
Smith has gone through the long and winding path up the ladder of high school coaching. Smith has grown up with baseball, and throughout his education he was an active participant. 
"I played my whole childhood, up through high school," Smith said. "Out of High school I originally signed to play football as quarterback at East Texas State."
Once he signed, East Texas State told him that he could still sign a division 1 baseball contract. After signing a NCAA D2 scholarship he could not accept any of the D1 offers he received afterwards. 
"So I went to Seminole Junior College, played there for two years under Coach Simmons who is the winningest junior college baseball coach in junior college history," said Smith.
After the two years at Seminole, he went to Texas State for two years. He helped lead the team to the conference tournament for the first time in school history. Later he was drafted by the Cincinnati Reds organization and played as a pitcher for a year. 
"I decided that I was tired of Mom and Dad helping me out and having to find a job for six months of the year. I finished up my degree and was lucky enough to get a job as a teacher and coach at Paschal High School," Smith said.
The first four years he spent there, he was the assistant coach and the head of pitchers. The following two years, he was the assistant head coach and took over as the head coach in 2004. 
"After three years there, I turned that program around from getting into the playoffs but never making it past the first round to making it two or three rounds deep per year," Smith said. 
Smith coached for five years at Paschal High School. Smith left to be the head coach of a small 2A high school in Hamilton, Texas. Prior to his arrival, the program was minuscule. The team barely had enough players to compete and had little community interaction. 
"My first year there, we won nine games and the previous year they had won five," Smith said. "By the time I left, we went from 11 kids to 32 kids, had a junior varsity team for the first time in eight to ten years, got involved with the little league by getting more kids involved in little league which translates to more high school baseball players."
In his final year in Hamilton, the baseball team finished one game out of the playoffs which was strides from what the program had been before his arrival. After that the Azle High School job opened up. Smith had played against Azle during his high school days and was well aware of Azle's baseball program. 
"I was lucky enough to get this job, and since I've been here, I think that everything here has gotten progressively better," Smith said. "A thing for me that I really enjoy is how our kids buy in. A big thing that I've learned and got better at as a coach is, at first I thought it was all about wins. As I've gotten older and more wise, at the end of the day: what are you developing as men coming out of your program?"
This virtue has been apparent ever since he joined Azle 5 years ago. Smith is a strong father figure to all of his players throughout the entire year. Not only in baseball but in the classroom, at home and around the school. 
"Coach Smith is strict but in a good way," senior Ryan Jordan said. "When he gets hard on us, it molds us into what we need to be as adults." 
The baseball team has four pillars. Faith, Family, School and Baseball, in that order. Coach teaches these from day 1 of the year and does not stop until his students and players graduate. 
"Seeing players become fathers and come back and call me coach is a really cool thing," Smith said. "Seeing them grow into hard working strong individuals is the biggest thing."
Smith also leads the baseball team in giving back to the community. They head over to the assisted living homes and spend a day with the residents there. The team also helps with Azle Little League tryouts and holds a clinic for all of the kids. The team has been very active in canned food drives throughout the entire year. Smith also teaches school spirit and pride, getting the baseball team to attend all of the other sporting events and supporting. 
"I think the biggest thing I try to teach the team is that you have to be well rounded individuals throughout life," Smith said. "I've got guys in all different activities, football, basketball, robotics, math and science team, and that's what I want to see as a coach."