Mary Shaw and her Chickens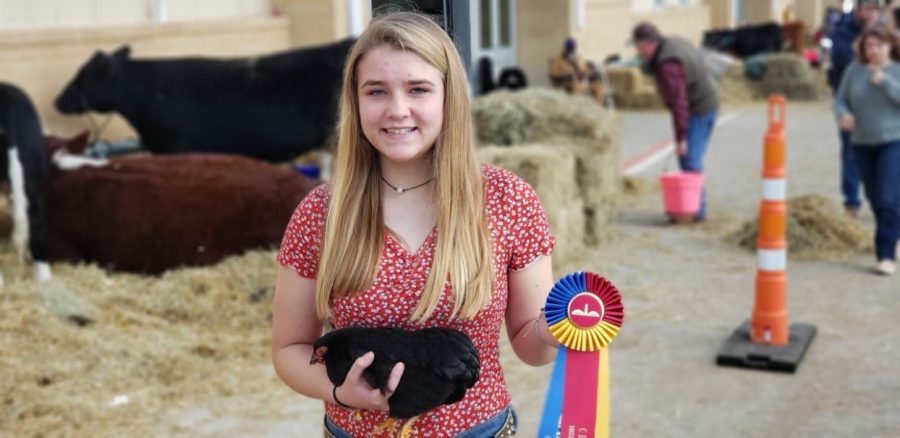 Grace Walsh, Staff writer and sports editor
March 5, 2020
While most of her classmates are at home watching Netflix, Mary spends hours every night feeding and providing for her chickens hoping that one of them is eligible to win. She works hard refilling the water and giving them the right minerals to keep them healthy and ready for show. 
Mary Shaw is a freshman here at the high school. She won grand champion for showing her chicken, Rosie, at the Fort Worth Stock Show on Jan. 26. She is involved in the program 4-H and participates in a lot of things within the program. 
Winning grand champion is a big deal, and the prize money isn't bad either.
"I know I won over $2,000 for showing Rosie, but I don't know the exact amount until it comes in the mail," Mary said. 
Surprisingly, taking care of show chickens requires hard work and patience. 
"I have to feed my chickens a certain amount and type of food to keep them the right weight to qualify for show," Mary said. "It's pretty hard when there's a ton of chickens to take care of because they are all so chaotic." 
The whole judging process usually takes about 3 days to narrow down whose chicken is the best in show. 
"The judging process is long but it's all worth it in the end when you hear your chicken actually placed," Mary said. 
Mary has been raising chickens since she was little and will continue to raise them because of how strong her passion is for it. 
"I love raising my chickens," Mary said. "Even though they're just chickens I see them as more of my pets and I love taking care of them."  

About the Writer
Grace Walsh, Staff writer and Advertising editor
My name is Grace Walsh and I am a sophomore. I love to make new friends and hang out with my friends. My favorite thing to do on Fridays is definitely...