Azle's Improv Troupe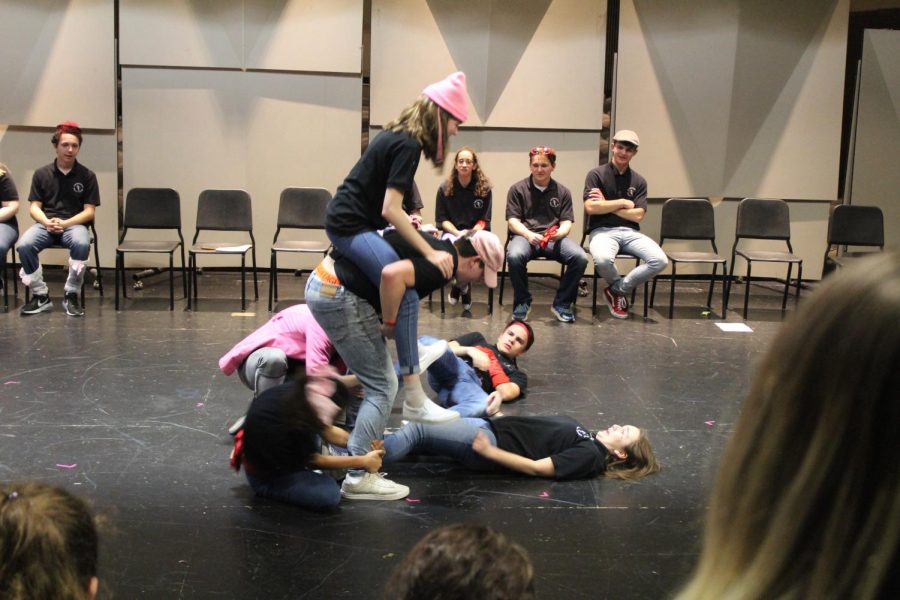 This year's troupe consists of Emily Dixon and James Kelly as team co-captains and Johnnie Arnold, Tristan Green, Brendan Hathaway, Jacob Heath, Colby Schmitt, Jack and Megan Valle, Clarisse Villalobos, Sydney Wells, and Jacob Wethington as troupe members. The troupe is student-organized and its managers are Emily Ball, Austin Smith, and Ray Lancaster.
The troupe's inhabitants change every year, whether adding new members and keeping older ones or replacing seniors that are graduating out with new members. The troupe holds shows in the high school auditorium for family, friends, staff, and students at the cheap price of $3 for one or $5 for two tickets.
"I enjoy going to the shows because I get to support my friends while they do something they enjoy and it's a fun thing to go to on Thursday nights and for cheap," junior Bell Pogue said.
Each show the troupe shuffles through a group of games. For example, they play a game called "Freeze". Freeze starts with two people acting out a scene the audience gives them. The other members watch and wait while the members act it out. Any member at any time can yell out freeze meaning the actors stop in place, the person who yelled freeze then picks a person to replace and start a new scene with the remaining person.
"The games and members keep me laughing throughout the entire hour of the show, it's great," senior Noah Rivers said.
The shows don't have regularly scheduled dates to go by but whenever a show is in the works and getting ready to be shown the troupe advertises weeks in advance. They usually have shows around holidays like Valentine's Day, Halloween, and Christmas along with others. They also have regular shows periodically throughout the school year.

About the Writer
Macie Crawford, Photography Editor
Hi, my name is Macie Crawford. I like junk and stuff and long walks on the beach. I am a senior at Azle and have been apart of the newspaper for three...