How Elementary Students are Processing COVID-19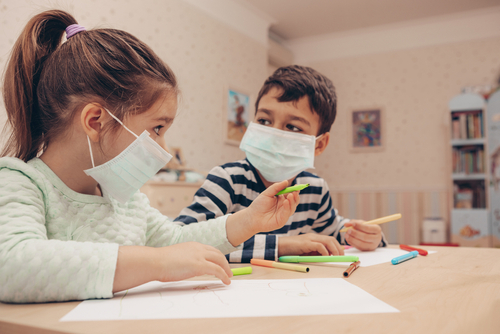 Whether being required to wear masks and distance from peers, or to sit at home with only a computer for company, students have been asked to change their school routines. This has caused us to address the underlying concern of how younger children, such as elementary students, are handling this pandemic.
On August 28, students in the Azle School District were given a choice between remote learning and in-person learning.
"Online school isn't fun or cool. In-person school is easier and is less pressure," virtual fourth grader Lochlan Creech said.
According to an article from The Conversation, "Although closing schools may slow the spread of the new coronavirus, widespread, prolonged closures may deepen inequalities in students' test scores and in how teachers treat individual students."
"School is okay," in-person second grader Delaney Kuechler said. "The masks are horrible."
As mentioned by the World Health Organization, "Fabric masks are recommended to prevent onward transmission in the general population in public areas, particularly where distancing is not possible, and in areas of community transmission. This could include the school grounds in some situations."
"I like online school better because I get breaks and it's easier," online third grader Tripp Conrad said.
As stated in an article from Edutopia, "In a series of recent studies, short physical activity breaks in the classroom improved students' behavior, increasing the effort they put into their activities as well as their ability to stay on task."
In this historical period, our nation's children are having to adapt to everchanging guidelines. While each student has their own experience, one thing remains constant. Education preserves.
About the Writer
Emporess Whitfield, Team Editor
Hi, my name is Emporess!!!!! I love 90's movies, collecting lucky charms, journaling, The Beatles, and am an avid baker & aspiring poet. I would...