New Cheerleading Coach Returns to Her Roots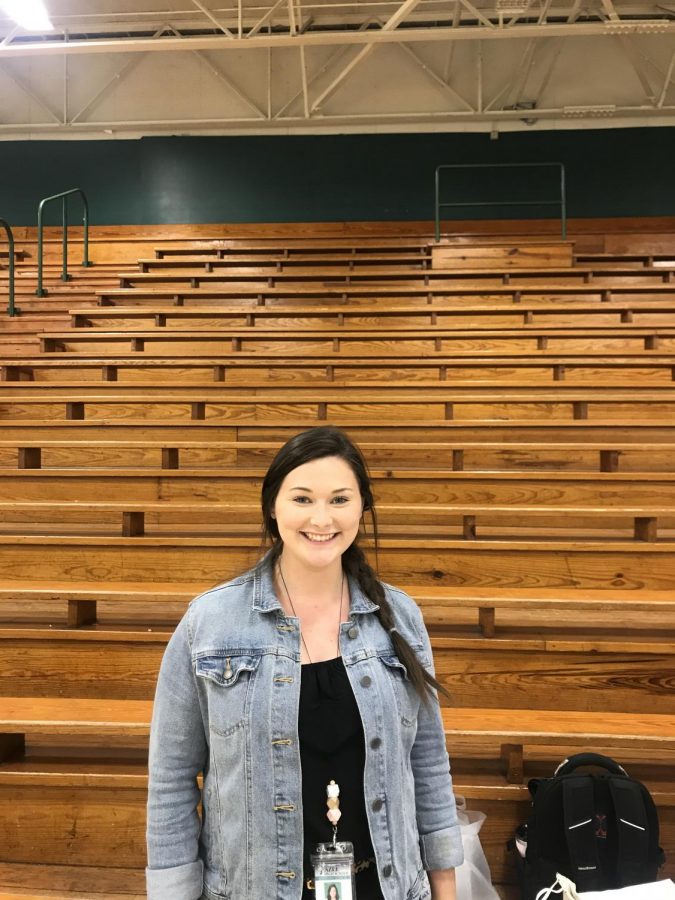 New Cheerleading Coach
Haley Hopkins, a former Azle graduate and cheerleader decided to come back to teach geometry and financial math, but most importantly, join as the new head cheerleading coach. Her first expression coming back to AHS to coach the cheer team was pure excitement, and she was happy to come back to the place she called home with so many memories with friends and former students.
"I graduated and cheered here all four years," Hopkins said. "Absolutely loved it, very happy to come back especially now that I'm coaching."
Even though this year has been crazy with COVID-19, adopting masks, and with the long break from school, students have been doing a cooperative job keeping a respectful attitude with the social distance.The cheerleaders are excited to be back on the sidelines. The cheer team's goal is stay focused, to be positive, be a safe distance from one another, and be environmentally friendly.
"She's very sweet, involved in all the activities with everyone on the team, brings a motivated spirit to everything and everyone to the table." senior varsity captain Grace Harton said. "It also helps a lot that she's younger to relate to many things, overall a great coach for the cheerleaders."
All the kids are working hard and Hopkins is loving it, getting to see more of their positive attitudes, having to deal with on a daily basis then overcoming them.
"Definitely a switch from the last cheerleading coach McPherson," senior varsity Macy Peterson says. "But she's definitely worked hard to be here and a very good coach to the students, understands a lot of us already, always pushing us to the very hardest to do our best."
Hopkins' seemed very enthusiastic, because coming back to her hometown made her very happy and brought back many memories. Astounded by the amazing talent that cheer has, she says she couldn't be more thrilled being able to coach an outstanding group of kids.
"She's easier to talk to more as a friend almost instead of a coach since she's younger than other coaches", senior Katy Thompson said. "Coach Hopkins is always a shoulder to lean on when we have a difficult time with something."
For this year, JV cheer will be at the first game on September 24, and varsity will be
cheering the first home game on September 25. Everyone is excited to be back on the sidelines.
"This year we had major changes mainly on a lot adapting. All the students did a wonderful job keeping a positive attitude and doing their best to change with the new rules they have to comply with," Hopkins says. "Everyone is working very hard with the distance and loving it."