AHS Theater to Perform "A Midsummer Night's Dream" Under New Director Fursey Gotuaco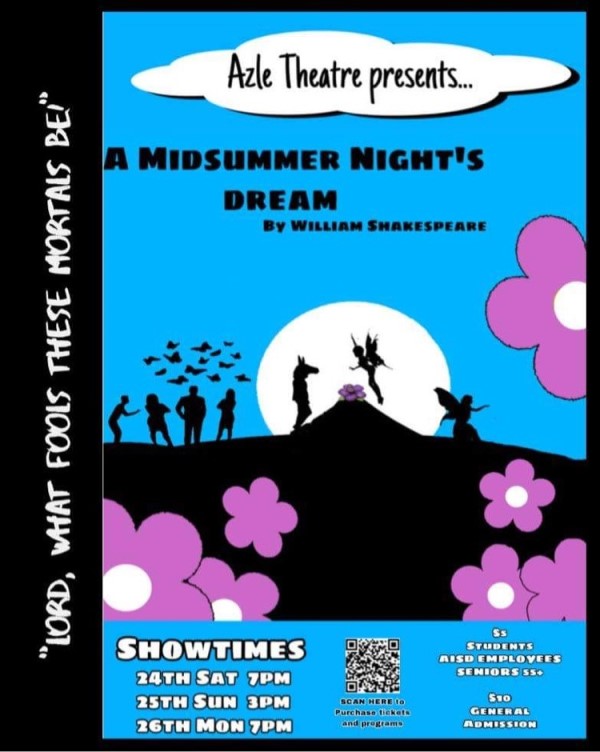 Aaron Grow, Guest Writer
October 22, 2020
The theater department is planning to perform Shakespeare's "A Midsummer Night's Dream" this weekend, the first of two planned performances for this semester. Many changes have been made to the upcoming fall show due to COVID-19.
Theater department head Fursey Gotuaco had many different productions to choose from, but he chose "A Midsummer Night's Dream" for some specific reasons. 
"Because it's a classic," Gotuaco said. "I think Midsummer Night's Dream gives us an opportunity to get all kinds of people on stage. If you are a veteran actor and you want a big role, we got a lot of big roles. If it's your first time ever to audition, and you just want like a small role to get a taste of it, we got small roles."
Gotuaco is also keeping the safety of actors and attendees in mind in this time of COVID-19. 
"According to UIL we do [have to wear a mask while performing]," Gotuaco said. "I think we have the opportunity to do something really special with the masks, right?… I think we're gonna try to match it with the costume if we can; if not, then we'll have everybody do the same."
Gotuaco is giving future attendees of the play a sneak peek at some of the play's focal points.
"The play is about lovers, and it's about magic," said Gotuaco. "It's about a time when things go a little bit crazy. What we want to do is we want to take this play that Shakespeare wrote 400 years ago and turn it into the battle of the sexes." 
Gotuaco isn't just going off of Shakespeare's original script, though; he is adding his own elements into the production. 
"I've added on some extra fairies, because we've got some kids who can dance, some kids who can sing," Gotuaco said. "We have people on this campus who can be amazing gymnasts, so I specifically had fairies cast just for their gymnastics."
Gotuaco also wants to leave his audience with an inspiring message.
"There's a certain level of equality that we have to see amongst each other," Gotuaco said. "There are things that are in place between men and women that we have to think about. We find women all the time who subjugate themselves to men. We all know it's wrong, but we all know someone who does it."