Tyler Harrison: the engineering, drone flying, wrestling coach of AHS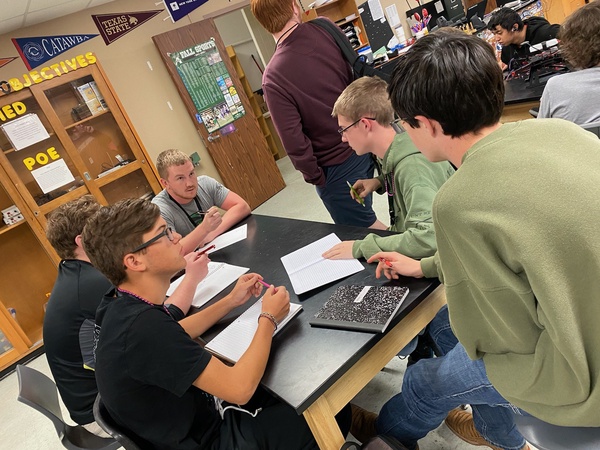 Engineering teacher and wrestling coach Tyler Harrison got a job as a math teacher before he was able to become an official coach at Azle. Although Harrison has been coaching wrestling since before he came to AHS, he chose to teach math because it was easy.
"When I started teaching, I made the decision to do it very late in the summer and I needed a job," Harrison said. "The math test was shorter than the science test, to be honest, so that's why I took the math test."
One of Harrison's philosophies is that losing helps a player improve themselves. In wrestling, there are a lot of strong opponents so improving strength is a big deal. The wrestling season this year will start next month..
"Unlike team sports, our week-to-week stuff doesn't affect the end of the season," Harrison said. " I've got no problem with losing then, because we're learning those lessons and correcting the mistakes we don't want to make anymore"
With wrestling being a very hands-on sport, when COVID-19 hit, Harrison had some problems. The season was pushed to the end of the year for wrestling and tournaments were not allowed; only dual meets were permitted last year.
"This year it's looking like things are going well," Harrison said. "We don't have any restrictions, we can have a normal season again which is exciting for me and the kids on the team."
Harrison only moved into engineering last year because of the new opportunities that were given. Harrison teaches engineering 1 and 2 and the drone class that is available.
"There aren't certain TEKS that I have to meet, so I can kind of branch out and teach what interests my kids," Harrison said. "It's a very hands-on course."
Harrison plans on trying to grow the engineering program here at AHS.
"Right now we have about 75 kids in the intro to engineering class," Harrison said. "Hopefully this year without COVID restrictions we can go to the middle school and promote engineering."
Leave a Comment