Why do strange Azle-themed Instagram accounts keep popping up?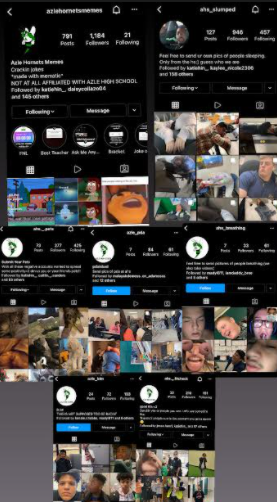 In the beginning it started with the @azlehornetsmeme page and further increased to bad parking at AHS, and @ahs_slumped. Then things got out of control when pages of roaches, people in the bathroom and back of heads started popping up. Students started making their own accounts aboutAzle High School. The accounts are still popping up and growing including @ahs._.pets, @ahs._.fitcheck, @ahs.answers and more.
"The pages are most definitely out of control, it was fine when it was just the parking page and sleeping page." @azlehornetsmemepage said. They created the meme page over a year ago because they thought the first meme page wasn't doing a good enough job. "All these new pages are just bandwagon stuff and I hope they don't make it past winter break."
"I was literally sitting in my car and I just learned about some negative accounts. I wanted to change that and I know everyone loves pets." @ahs._.pets said. Their favorite account, other than their own, is the @ahs_slumped. "The other accounts are kind of annoying, especially the ones putting other people down."
"The whole idea behind the page was to get a boost of confidence, although there were some not good fits we rated." @ahs._.fitcheck said. They think that the other pages are a load of crap and they just have something to talk about. "I think some other pages are really creepy."
Other than just plain weird and unnecessary pages, there are some negative pages that put other people down. For example @ahs._.rumors, @ahs_siblings_or_dating, @ahs_pda2021 and more. Other pages that have gotten taken down like the bathroom or feet page made people uncomfortable.
"If I had to be on any page it would be the hot Azle girls," sophomore Maddie Bryant said. She is featured on the slump page and she thinks it's funny that she is on the page.
Junior Sam Graeber said. He thinks it is definitely getting out of hand but if he had to make an Instagram page it would be about all the IDs he finds on the floor.
From funny memes to sleeping in school to answer pages, there have been some crazy Instagram accounts. Will they continue or will they stop?
Leave a Comment
About the Contributor
Daytona Gravlin, Social Media and Advertising
Hi I'm Daytona Rae:) I love painting in my spare time or shopping el oh el. My zodiac sign is cancer, I am a dazzler, and I loveeee scary and comedy movies....