A Season on Locke Down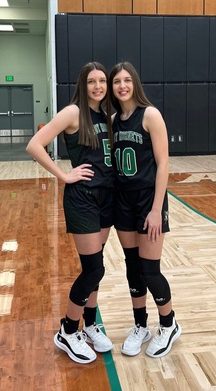 Lady Hornet basketball players, Kendall and Karlee Locke, have experienced major changes this season after Karlee suffered a high ankle and lateral foot sprain bringing her junior season to an early close during the Brewer game on January 18.
The Locke twins are third year varsity basketball players and have led the Lady Hornets to playoffs 2 years in a row.
"It's been great to be able to lead the other girls and kind of show them how we run things on varsity," Kendall Locke said.
Kendall has had to step up for the team more than ever since Karlee has been bench-ridden. 
"It's bittersweet to see the team from a different perspective," Karlee said, "I have learned to see the court from the bench and cheer on my girls at the same time."
This season, Kendall has led the team in shooting with a 12.9 average shooting percentage per game and Karlee led the team in steals and rebounds pre-injury with a 2.9 steal average and a 3.1 rebound average per game.
"I put the twins on varsity their freshman year which is something I never do," Varsity basketball coach Mitzi Marquart says, "I haven't regretted it one bit."
After Karlee's injury, Kendall has been faced with the challenge of playing for the both of them. She already stepped up to the plate and scored 22 points against Brewer the night of Karlee's injury.
"I guess you could say it's sort of revenge on Brewer for injuring my sister and it certainly felt good to do that for her," Kendall said.
The twins have persevered through this season even with a disappointing loss to Grandbury Feb. 9, cutting their season short.
"This season has been a rollercoaster and taught us all so many lessons and I hope for healthy bodies and a better season next year; It's only up from here," Karlee said.
The Locke twins have big plans for their senior season next year. The Lockes will be breaking records and setting standards as they leave their mark on AHS.