The Sting Recognizes: Ms. Bevan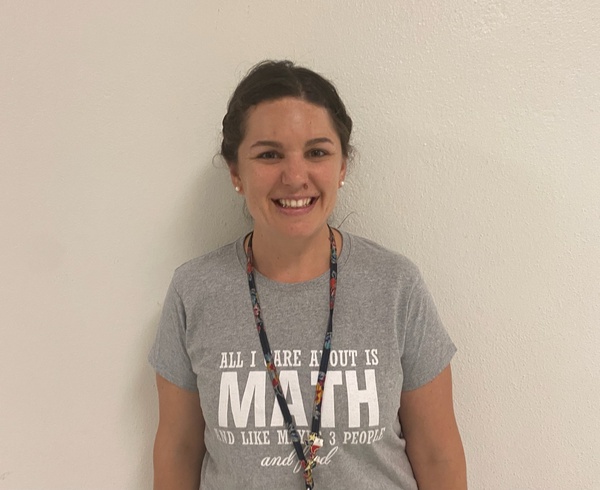 Math has always been a tough subject for some me, with its lack of room for creativity and the pile of seemingly incomprehensible numbers and letters in front of them. However, Onramps Algebra teacher Mrs. Rachel Bevan has strived to make the class as creative, fun, and understandable as possible for struggling students like me. Not only does she have fun little math memes on the board for upcoming holidays, but as the owner of her own petting zoo, she will occasionally bring in animals from home to share and show to the students while working. With her fun spirit and atmosphere, she still makes it clear to her students that she is dedicated to both her students and her career by adapting to any situation at a moment's notice.
Some of her students this year couldn't forget the instance in which she asked her husband, Mr. Bevan, a substitute for the high school, to bring the heavily requested baby rabbits from their home to her classroom. A few minutes after calling him, Mrs. Bevan received a call from her husband informing her that he got into a car crash, however, she was so calm and collected, students in her class thought that she got a simple call about a slight inconvenience. She was able to swiftly leave the classroom after finding a substitute and arrive at the scene to confirm that everyone in the crash was okay. To the students' surprise, she stuck to her promise and still brought the bunnies the next day.
Mrs. Bevan, while also managing her classes, was able to suddenly adapt her schedule to help plan and find materials for prom at the drop of a dime. As being in her fourth period class, I would often hear her asking students to spread word about news when changes arrived, asked for opinions, and even worked on details in her spare time during class.
Mrs. Bevan's unquestionable dedication and ability to balance her own personal responsibilities and workload as a teacher is a trait that I and many students can't help but admire about her.
Leave a Comment
About the Contributor
Erika Clayton, Advertising Editor
Hi, I'm Erika! I'm a senior, and including our journalism team, I am involved with Chapters of Azle, UIL Journalism, the National Honors Society, and the...