Olivia Rodrigo Goes on Tour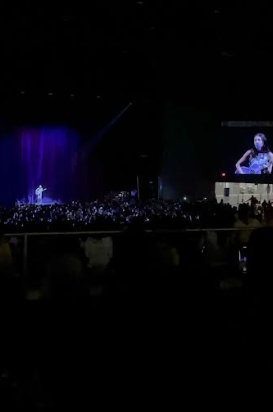 The queen, Olivia Rodrigo, is finally on tour. Her tour tickets are almost all sold out in every state. The tickets went as low as $65 to $550, depending where you got your seat. She started her tour April 5 and it ends July 7. She has already had 23 performances on her tour so far and all of them have been spectacular.
At one of her performances in Toronto, Canada, Avril Lavigne surprised the fans on stage to sing a duet with Rodrigo of Lavigne's hit song, "Complicated." That's not the only time that another amazing singer joined her on stage. On April 7, in Vancouver, Canada, one of her best friends, Conan Gray, did a duet cover of "The One That Got Away" by Katy Perry.
During her performances of her song, "good 4 u," Rodrigo is dropping white, blue and purple butterfly shaped confetti with personal messages from Olivia herself to her audience. Another special thing she did was on April 26 and 27 in New York City, she posted for everyone to dress up to have a "SOUR" themed prom at her concert. Everyone showed up in beautiful dresses and accessorized with "SOUR" tiaras, earrings, necklaces, etc.
So far, everyone has been loving her tour and it has been a huge hit. Fans have mentioned how her show was electric and full of fun. Her emotionally direct songs allow her fans to feel the unmatched power of letting their hearts out, knowing that people go through the same heartbreaks sometimes, and sharing a space where they are accepted.
She is only 19 years old, traveling the world, winning awards left and right, and absolutely thriving. She went to the Met Gala and slayed her butterfly look. Looks like Rodrigo's acting debut in "American Girl: Grace Stirs Up Success" was fitting. Missing out on this new incredible, hot artist would be "brutal."
Leave a Comment
About the Contributor
Daytona Gravlin, Social Media and Advertising
Hi, I'm Daytona:) I am a Junior and an Emerald Dazzler! I have two cute dogs and an addiction to Chipotle. One of the funniest people you'll meet.