Flying through the competition
A highlight on the recent successes of the Azle Drone Team
Computer scientists and businesses across the nation have been finding new ways to improve technology. Drones have the potential to innovate our society from scouting for military missions to catering food and Amazon deliveries quicker than ever before.
With these machines, there must be people to build and operate them, and that's exactly what students on Azle's drone team are learning.
The Azle drone team competed at the Bell Vertical Robotics Championship Event Dec. 3, after getting second at the previous robotics competition the weekend of Nov. 12. This is the first time a team from Azle has made it to the championships.
Flying a drone is not a one-person job. Everyone on the team has something to do, such as piloting, assembling and directing the drone with a handheld laser. Junior Kyler Akers is the pilot for this year's competitions.
"I've been flying drones since I was twelve," Akers said. "There's a lot of stuff that goes into building and operating a drone. It took us about 2 months to build and fly the drone we made."
Students on the drone team have all had previous experience with engineering in either Intro to Engineering & Design or Intro to UAV. Students who take these classes and join the club all learn valuable lessons about technology.
"Building drones is a really good intro to STEM itself," sophomore Matthew Frank said. "It helps me prepare and get ready for my future."
At the Bell HQ Competition, the qualifier event for the championships, teams used their drones to simulate "putting out a fire" by moving little blue balls to certain locations around the city diorama. Students worked together to accomplish this task.
"It's very hands-on and involves a lot of problem-solving," junior Brendon Devillier said. "They give you the supplies to put the drone together, but they don't tell you how to solve a lot of the problems."
At the Bell HQ Championship, the efforts of the students on the drone team really showed with them taking 13th place out of over 70 teams from around the nation.
"A lot of the work is student-led," engineering teacher Tyler Harrison said. "They do a lot of incredible things and build the entire drone. It's really fun bringing your ideas to life"
If you're interested in joining the drone team and learning more about drones, contact Coach Harrison in F25.
Leave a Comment
About the Contributor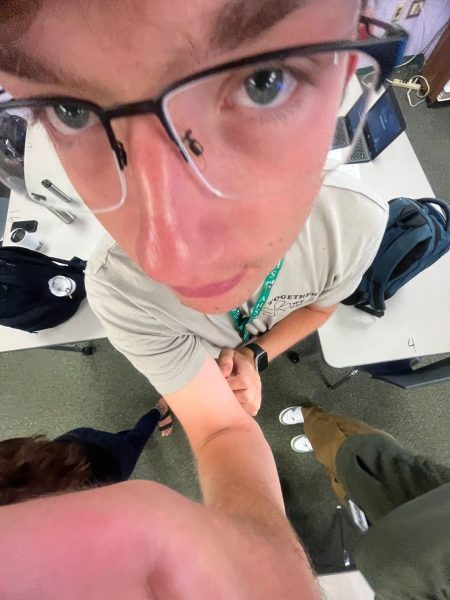 Luke Petersen, Co-Editor-In-Chief
i love indie rock and earth tones