Ganns' Gone Bowling
Two sisters here at Azle High School have taken on competitive bowling and been extremely successful. Freshman Grace Gann and her sister, senior Gabby Gann, are both in an extracurricular bowling league for Cityview high school co-ed league.
Grace recently bowled a personal high score of 287, a perfect game being 300.
"Bowling a 287 was one of my biggest accomplishments," Grace said. "That made me really happy."
Grace started bowling when she was 3, and it has been a huge outlet for her ever since.
"It's really all about my mental health when it comes to bowling," Grace said. "When I have failing days, it gets my mood up and I start doing good again."
Gabby took up bowling more recently.
"I started bowling around 2 years ago because both of our parents bowl, too," Gabby said.
Gabby also has had big accomplishments such as most improved, highest handicap and highest scratch series.
"I bowled a high score of 226 which was a huge accomplishment for me," Gabby said.
Bowling together has brought Grace and Gabby closer together as well as brought some good sisterly competition.
"We used to play softball together but bowling is something we've really enjoyed doing together," Gabby said.
Grace and Gabby Gann have bright futures ahead of them in the bowling world and here at Azle High School.
Leave a Comment
About the Contributors
Brynn Lee, Team Editor
Hi! I'm a junior on the Sting this year. I read loser romance novels and play on varsity volleyball here at AHS. :)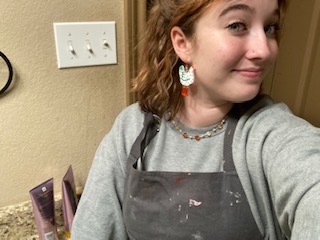 Arianna Pardue, Co-Editor in Chief
I am a senior this year and looking forward to college next year. I have 8 cats and 3 dogs that I adore.  I am often found reading, drawing, or writing....