The Sting's Seniors Look Back on the Years at AHS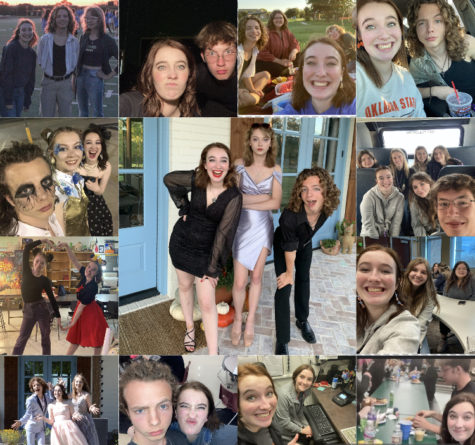 Arianna Pardue
Wow, four years go by fast, and I can't believe my senior year is coming to an end. This was something I never expected to be doing in high school, let alone at all. While high school has seemed to speed past us, there was always something positive to look back on, even through the struggles and hardships. We faced many things together, from COVID to Google Meets, and now graduation will be the last thing we conquer as a class. As graduation approaches, I guess this is my closing story for the Sting.
I would like to thank the amazing teachers that I have had over the years who have got me to where I am today. I would absolutely not have managed to get this far or to the places I will go, and for that, I will be forever grateful for your belief in me. A special thank you to Mr. Corbett for believing in me even though I didn't at first and for fostering my love for journalism, and to my mom because she has always been there to fight for me, which is something I will forever be grateful for
As for high school, I have made lifelong friendships because of newspaper, which was something I never imagined being in but have come to love and find a real passion for. The printing and imaging class has been my safe space and we have created a real family from our small group of students. I hope to continue to foster the friendships that have come out of the class. I got to create a real connection with my co-editor, Emporess; she was someone to lean on when I had no clue what I was going to do in various situations. I am so happy I could be a part of this in my high school years.
While moving on will be a stressful and over-exciting transition, I look forward to the new challenges ahead. I leave with the advice to try everything you can be involved in but don't be afraid to quit and keep what matters most. In the four years of high school, I joined and quit many things; however, I held on to the things that mattered to me. I have done colorguard, chess club, art club, theater, UIL journalism, and taken various electives. These have all left me without regrets.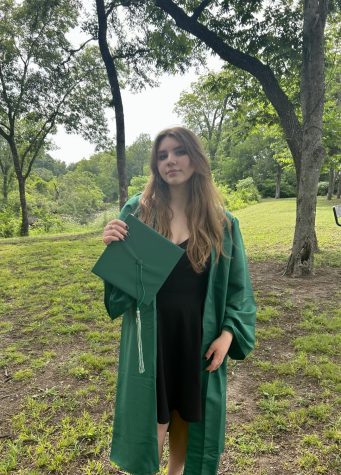 Emporess
With senior year coming to a close and graduation just around the corner, it is time to reflect on all of the wonderful memories and times spent throughout high school. It is surreal to think about how this will be the last story I write for The Sting, which is more than the school newspaper to me. I can't help but imagine myself as a shy freshman, unsure of who I was and who I wanted to be, and I will always remember Mr.Corbett's guidance. His encouragement led me to where I am today. He pushed me to exceed my personal limitations and expectations, and he believed in me when I didn't believe in myself. The decision to join newspaper has been my best one yet, and it is a choice that I am positive that I will never forget or regret.
There were times throughout these past four years that I did not think that I would make it to where I am today. I did not picture myself graduating, much less being a part of so many amazing organizations and meeting such incredible people. I would like to give a special thank you to all of my teachers, and especially the CTE program. Being able to take classes like Health Science Clinicals, Med-Term, etc., helped me develop a passion for medicine, as well as deciding my college major and how I would proceed with the rest of my life.
Most of all, I want to use this space to thank my entire newspaper family. It has been more than a privilege to be your Co-Editor-in-Chief this year. Newspaper has always been my absolute favorite class, something that I look forward to each and every day, and that is thanks to you.
Arianna, you have been the best partner in crime I could ask for. You are such a bright light and your positive energy never fails to lift me up. I hope that we keep in touch and continue to bond over us both secretly being grandmas. I am beyond lucky to have been able to see every member of the Sting's growth and improvement. You all amaze me and I will be sure to check up on your lives and stories long after I graduate.
To Mr. Corbett, you are not just a teacher. You have changed the lives of countless students, including me. Thank you for being a major part of why I will be walking that stage this year. Thank you for your patience, your care, and your dedication to teaching. I may be leaving a lot behind when I graduate, but I will remember you and what you have taught me. I know now that I will always have a passion and love for journalism, for editing and writing and leading the most talented group of writers. I love you all and you have made a lasting impact on me. The Sting will live on in my heart forever!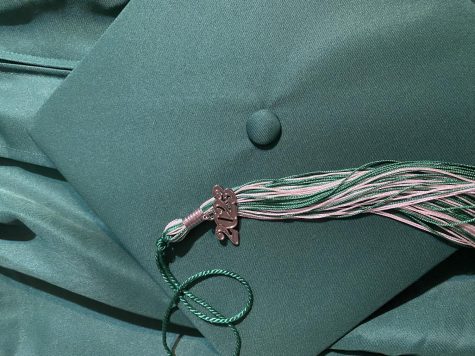 Danay Cortez
Over the last 4 years, I've learned so much from Newspaper. I'll truly miss the off-topic discussions everyone in the room shares, the pitch meetings, and of course, the early morning sugar-rush parties we would have. I'm glad I get to spend my last few remaining days of high school in the Newspaper class, everyone has individually helped me with my socializing skills and assembling new friends from every grade.
The start of high school wasn't bright whatsoever. I remember my freshman year I would dread coming into my journalism class, barely passing every six weeks. The vague memories of my first year of high school were terrible. I would rarely pay attention in class with a low attention span, and I'd really like to show my appreciation for Mr. Corbett for giving me a second chance and a helping hand. I wouldn't be the same person I am today if I hadn't stumbled into Mr. Corbett's class on the first day of school. My Newspaper sisters will always have a place in my heart. Time went by so fast, I never realized I have known the Editors-in-Chef Arianna Pardue and Emporess Whitfield for so long now. Because of them, the Newspaper classroom has a kind and enlightening atmosphere, with the brightest smiles I've ever seen. I'm beyond glad to see both of them, succeeding their hardest, with rewarding scholarships, and admitted to their colleges.
If you're an underclassman or starting high school soon, don't follow in my footsteps. I'd highly recommend joining clubs, and after-school activities, and at least participating in some AP classes. I regret not being in more school spirit like my senior classmates around me. Going back through my memories, there isn't much footage of my high school years and I regret it so much. Although there are a lot of regrets, I could've done better and I wish there was a time machine near me, I can officially say my fourth year of high school is almost done. Class 2022-2023 Video Editor and Staff Writer signing out.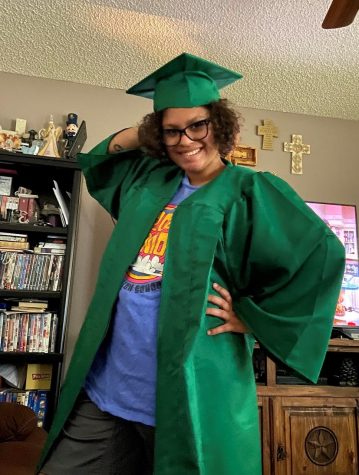 Colby Booker
My time here at Azle High School was hard because, when I was a freshman, the school only went until spring break because of the pandemic. So I never finished that year. The next year was the time I spent half of it at my house. Then last year I got my letter jacket for athletic training. Now it is my Senior year and I can't believe it. I had some really good teachers the past four years and I am going to miss them so much. Last Friday I got a $500 PTO Scholarship to go towards me going to college.
Also, the friends that I made I will never see again but I will not forget them. I remember the first day I had to train for the football players but it was hot. I learned so much about being an athletic trainer in the past years. My favorite thing I did was when I went to prom with some of my friends and we had a lot of fun.
I know one person I am going to miss is Mrs. Milosh because she has helped me come out of my shell. She also helped me with my learning disabilities. Milosh is one of the best teachers and the nicest person I have ever known. I am never going to forget to talk every day when I am down. I love her so much and she helped me through a lot of struggles and emotions that I have had.
Then there is Mr. McCartney who has known me since I was in 7th grade choir. When I got into high school he became my best friend. He would always ask me how my day was every day when I was in his class. He also loves all of his kids very much. I love him so much, and also I love him like he is my second dad.
Leave a Comment