Driven to success
A Recap of Principal Driver's First Year in Azle
As the school year comes to an end, so does principal Nate Driver's first year in Azle. Even with the stress of being a principal of over 1,900 students, Driver has been exemplary at connecting with students across campus.
Being a principal requires the ability to manage an entire school's budget and help students pass the standardized tests that need help with it. A principal also deals with managing the school on a day-to-day basis and representing the school outside of campus.
"I try to do things for myself, mentally and physically to make sure I'm taking care of myself and not burning myself out because this job does require a lot," Driver said. "Making sure I create time for me and my family and not getting overworked."
Mr. Driver is looking to help not only the school but the students as well. He has made close bonds and built friendships with both students and faculty. His positive attitude is felt across campus.
"I've never seen a principal as proud as Mr. Driver," senior Diana Garcia said. "Just the way he treats us in the hallways, and especially at the top 10 dinner. I've never seen him get so proud."
As the principal, Mr. Driver works with the assistant principals to enforce the ID requirement, designated lunch areas, and he helps maintain student safety.
"He's always at the doors when we walk in," freshman Annika Birkeland said. "I see him pretty often. Every day when we come in, he always asks us 'Where's your ID?'"
Outside of just maintaining the security of the school, Driver also works to create a fun and positive environment for everyone on campus. Sophomore Sophia Gerbers said she believes he has made a massive impact on AHS.
"He brings a new school cheer that I don't think could be brought by anyone else," Gerbers said. "I feel the school spirit when I walk in the building every morning. He never fails to put a smile on a student's face."
Student council adviser Chad Cooke often works with the principal on creating dress-up days, homecoming activities and school dances. Cooke said he believes Driver has been a great principal to work with.
"He is supportive, understanding and brings a new energy to the principal position," Cooke said. "He listens and understands students and teachers alike. He really works to follow through on his promises to make the school a better place."
Leave a Comment
About the Contributor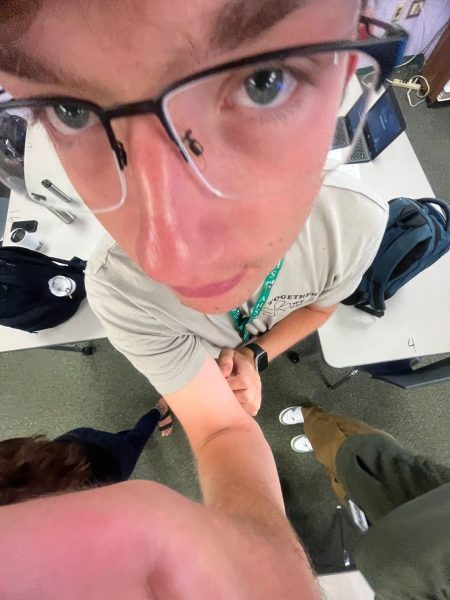 Luke Petersen, Co-Editor-In-Chief
i love indie rock and earth tones