Swim Team Races Their Way To District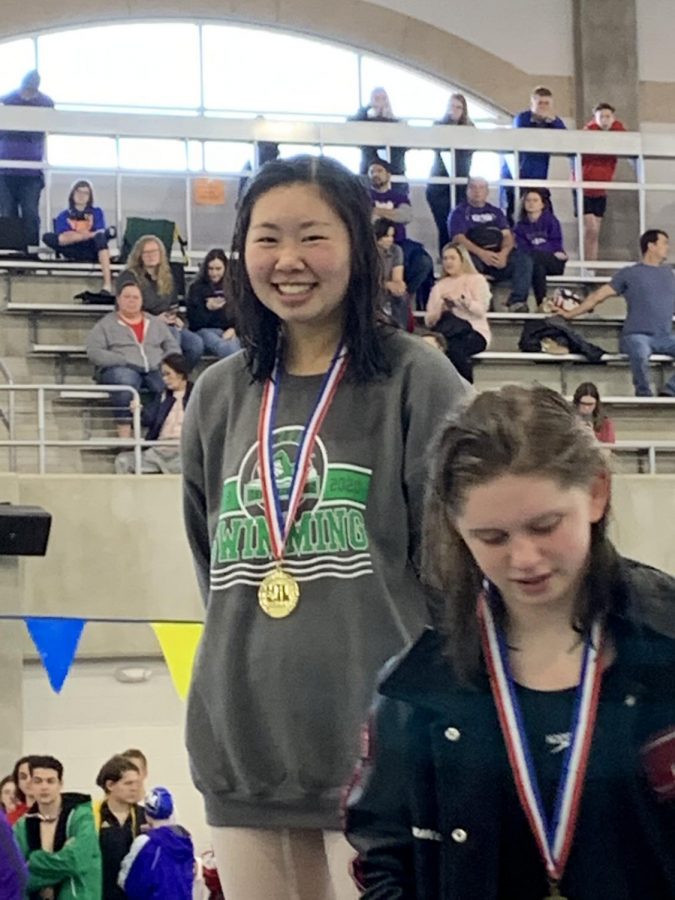 2/3/20 UPDATE: Phoebe Mosley won the regional gold medal for 200 meter IM and will be competing at the state swim meet in Austin Feb. 14 and 15.
Editor's note: Since this story was originally posted Jan. 17, we have since received District results from Coach Griffin. Below is a list of those who qualified for regionals along with a list of all awards received:
Boys' Medley Relay:  Griffin Schroeder, Steven Manley, Jaret Manley, Tristan George
Phoebe Passmore (SO): 200 Free (5th)
Phoebe Mosley (FR): 200 IM (Gold) and 100 Back (Gold)
Jaret Manley (SR): 50 Free (Silver) and 100 Free (Bronze)
Steven Manley (FR): 500 Free
Girls' 200 Free Relay: Phoebe Passmore, Whitley Armstrong, Brooke Schocke, Phoebe Mosley
Girls' 400 Free Relay: Aviona Overstreet, Angelina Griggs, Angel Collins, Shaleigh Pritchard
Boys' 200 Free Relay:  Griffin Schroeder, Steven Manley, Tristan George, Jaret Manley
Griffin Schroeder (JR): 100 Back (5th)
Team Results:  82 points, 4th place
Female Swimmer of the Meet:  Phoebe Mosley (FR)
Our swim team has been making quite a splash this season and are now getting ready for their district meet this Saturday, Jan 18 at Keller. 
"The entire team gets to swim at the district meet then the top six in each event, both relays, and individual, will advance to the region meet," swim coach Steve Griffin said. "Once you get to region, the top two automatically advance to state out of each of the eight regions. Unfortunately this year, we have a lot of our swimmers with the best times out due to injuries so we can only hope for a good outcome at district."
Not all of the fastest swimmers are out with an injury.
"We actually have a student freshman, Phoebe Mosley, who has a very good chance of making it to state," Griffin said.
Mosley has beaten the time of one of last year's state qualifiers twice this year in the 200 individual medleys.
"I've been swimming since I was eight," Mosley said. "My best time is in the 200 back, which is my best race, is a 2.09."
This time doesn't come without lots of practice.
"With the high school team I practice like 5 days a week, sometimes 4 because we practice all the way in Decatur," Mosley said. "When I did club, we practiced about 9 times a week."
With so much practice, she is confident that she will do well at district.
"I'm not that nervous about district," Mosley said. "If anything, I'm more nervous about the region meet. I usually win both my races at district."
Because of her talent, she's not the only one confident about her performance.
"Mosley has the top time in the district in the 100 backstroke," Giffin said. "Because of this, she is almost inevitably going to advance to region."
Goodluck to all the other swimmers competing at district. The newspaper staff is rooting for you all.

About the Contributor
Natalie Barnes, photography team and social media/ advertising
I'm a sophomore and this is my first year of being on the newspaper staff. I love music and I'm always going to concerts. My favorite things ever include...