Making the Goal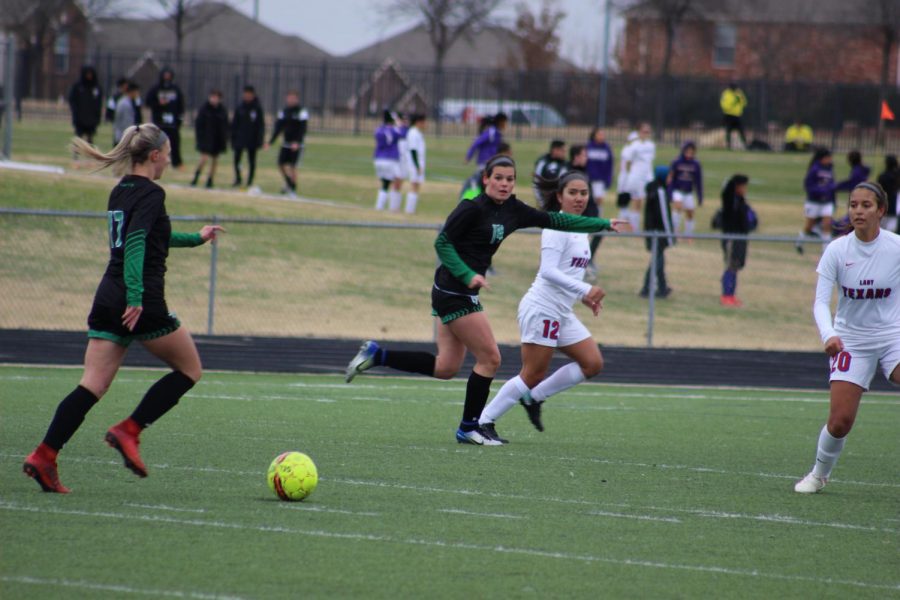 On Feb. 8, the Girls Varsity soccer team beat Boswell High School 2-1. This is the first time in four years that the team has beaten Boswell.
The last time Azle beat Boswell was Feb. 20, 2015. Having been so long, the team coaches were pleased with their performance
"I am very proud of the team for beating Boswell," Coach Timothy Lyons said. "Often in sports, when a team is confronted with a negative streak like this, it becomes a mental block and can be difficult to overcome."
Since Boswell is Azle's rival, the players make it their goal to beat them every year.
"Ever since freshman year, we've always tried to beat them, that has always been our goal," Senior Kara Moore said. "Going in, we were just kind of like 'we're going to beat them.'"
When going into the game against Boswell, the team needed to take a different approach in getting prepared.
"Beating Boswell was all about preparation. There is no doubt that we were prepared physically," Lyons said. "We needed to enter the game with the right attitudes; with the belief that we were going to win."
Everything in the game seemed to be going right for the team. They worked well together to make sure that they won.
"I think, as a team, we moved up together. Every time we lost the ball, we got it right back, we never just let them go past us," Moore said. "We worked good as a team. Our defense was really stepped up that game."

About the Contributors
Mariah Hanna, Co-Editor in Chief
Hello!
My name is Mariah. I'm a junior this year. I play piano and have two wonderful dogs, Rico and Lyza. I was born in Portland, Oregon, but now live...
Logan Creech, Photography Editor
I am Logan Creech, but my friends call me Lagoon. I like cats and socks with cartoon animals on them. I have dyed my hair 8 times and haven't had my...