AVID Seniors Prepare for What Comes Next
AVID, which stands for Advancement Via Individual Determination, is a program that helps students excel in school as well as prepares them for a higher education or whatever comes next for them after high school. Azle's first AVID senior class will graduate in the spring.
The final college trip for the AVID seniors saw them heading to Texas Christian University on Nov. 4. Senior students, along with AVID coordinator and senior AVID teacher Sarah Milosh, toured the campus to see what TCU can provide as an option for college.
"Finding out that TCU has a good Sports Medicine Program has definitely put TCU in my thoughts of colleges and knowing that it's close to home was pretty cool," senior Sahara Henson said.
Most of these seniors joined AVID during their freshman year and have stuck with the program despite the demands to pursue more challenging academic schedules. AVID students have sacrificed off-periods and electives to put education and their future first.
"As a program, we provide academic support, school supplies, resources like college tutors, and scholarship hubs," Milosh said. "We support our students as they navigate offers of acceptance, FAFSA, financial packages, resumés and letters of recommendation, enrollment, dorm deposits, and all the little details that go into this process."
The senior AVID students have gone on tours to get a feel for which college could be the best fit for them. These tours include an overview of what the campus has to offer as well as a showing of where everything is located.
"For a long time, I thought I wanted to go to A&M and be a zoologist," senior Lexie Cantrell said. "The longer I have been in AVID, the more I have looked into things. AVID has opened my eyes to colleges in which I would be more interested instead of what I was told was good. AVID has helped with research and helped me figure out what I actually want to do and go."
AVID provides opportunities for students that might not have otherwise had awareness of them, and allows students to learn strategies for ways to be successful in high school and beyond.
"AVID has opened my mind up to college," senior Kalyce Richardson said. "Before I was in the class, I thought I would never go to college or get a normal college education, but with AVID, I feel like it can actually be possible instead of just a dream."
College is an expensive endeavor, and no student wants to spend even more because they change their mind later. AVID gives students the opportunity and know-how to figure out their plans before they graduate so they won't run into that issue.
"I hope that I showed them that anything is possible and to dream big; that hard work, planning, and determination will pay off; that challenges only make them stronger and more resilient," Milosh said. "I hope I made them feel loved and supported and helped them find their strengths."
Leave a Comment
About the Contributor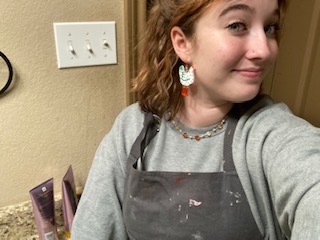 Arianna Pardue, Co-Editor in Chief
I am a senior this year and looking forward to college next year. I have 8 cats and 3 dogs that I adore.  I am often found reading, drawing, or writing....